Outline
The Jinju Experimental Forests include the Weora and the Gajwa Experimental Forests.
Weora Experimental Forest
The forest is located in the southern temperate forest region of Korea, surrounding Mt. Weora in Jinju city, Gyeongsangnam-do province. The northeastern side of the forest has a steep slope while the southwestern side has a mild slope. The Nam river flows adjoining the northern boundary of the forest. The forest retains the gene conservation plantation of multi-purpose tree species. One of the major projects ongoing in the forest is to develop technologies for growing medicinal and edible plants in the forest while raising trees.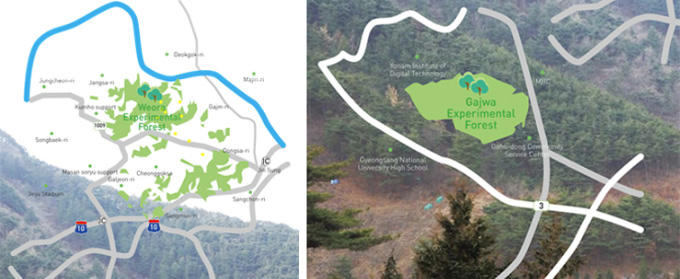 Location
Munsan-up, Geumsan-myun, Jinseong-myun in Jinju city
Area :
722 ha
Gene conservation : 225 ha, Timber production : 80 ha, Nature conservation : 239 ha
Landscape :
178 ha
Forest origin
Artificial forest (31%) : 224 ha
Natural forest (69%) : 498 ha
Gajwa Experimental Forest
The forest is located at the foot of Mt. Cheonyong(116.8 m a.s.l.) in Jinju city. Because it has a plantation archive (126 ha) for a wide variety of bamboos including Phyllostachys pubescens, Phyllostachys bambusoides and Phyllostachys nigra var. henonis, research projects on bamboo forests have been actively conducted. The forest also functions as an urban forest and an educational site for students and the public by opening an arboretum and a medicinal plant garden.
Location
Gajwa-dong, Jinju city
Area :
27 ha
Forest origin
Almost all of the forests are artificial forests composed of Japanese cedar, Hinoki cypress, and bamboo etc
Major activities in the Jinju Experimental Forest
01 Ex situ conservation of forest genetic resources
02 Developing technologies for the control of forest insect pests and diseases occurring in the southern part of Korea
03 Establishing experimental sites for developing short-term income sources
04 Establishing and managing carbon sink forests
05 Developing new varieties of ornamental tree species
06 Establishing educational forests for students and the public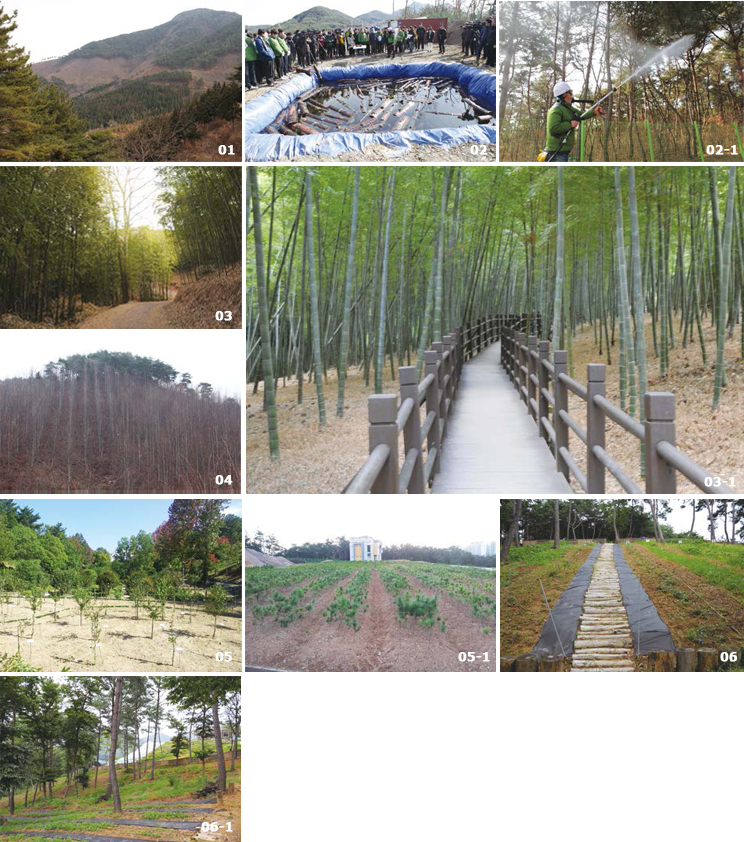 01A provenance test of hinoki cypress
02A field test for the control of pine wilt disease by immersing the infected wood in the salt water
02-1Chemical control of vector insects of pine wilt disease
03, 03-1Gene conservation of bamboo trees
04An experimental site for increasing biomass of yellow poplar
05Model forests by function
05-1A nursery of highyielding tree species
06, 06-1Cultivating plant crops in the forest as a short-term income source for farmers