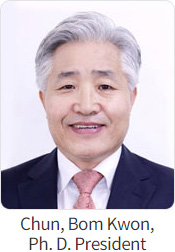 Dear Distinguished Citizens,
Welcome you to the NIFoS website.I am honored to fulfill the role of the 22th president of National Institute of Forest Science (NIFoS).

National Institute of Forest Science (NIFoS), since its establishment, has been recognized as the only national forest research institute in Republic of Korea and one of global think tank groups, significantly contributing to the development of forest science technology that raises the value of our forests.

Forests are a sustainable resource that continuously creates new values. As we can see from the 17 Sustainable Development Goals (SDGs) set by United Nations (UN), forests have the key to many of the challenges we face today.

Forests are not only an environmental resource that can address the increasing environmental problems such as climate change and fine dusts, also a national welfare resource that benefits people's health through forest recreation, forest healing, forest education and so on. In addition, forests are an economic resource that provides wood and a variety of forest products, and also a social resource where the youth can gain a new job and the retirees can start the second part of their life after retirement through forestry.

As such, forests have been constantly evolving to be a new national brand that will lead the future national growth as well as a 'Forest of Life', based on the infinite potential to embrace both the present and future of our people.

We at NIFoS will establish the multi-convergent research platform to meet the demands of the times, national and economic needs for forests, and take the lead in providing more pioneering research outcomes in the government agenda through field-oriented practical research so that both the nation and the people can immediately notice.

We, through the forests, promise to respond timely and precisely to the diverse needs of the rapidly changing society by customized approaches to the people. Also, we will do our best to be committed to establishing the foundation to make a 'healthy and safe Korea in forests, a Korean peninsula in the forest, and the green world', with the far-sighted vision for preparing for the coming century.

Thank you for your support and encouragement.