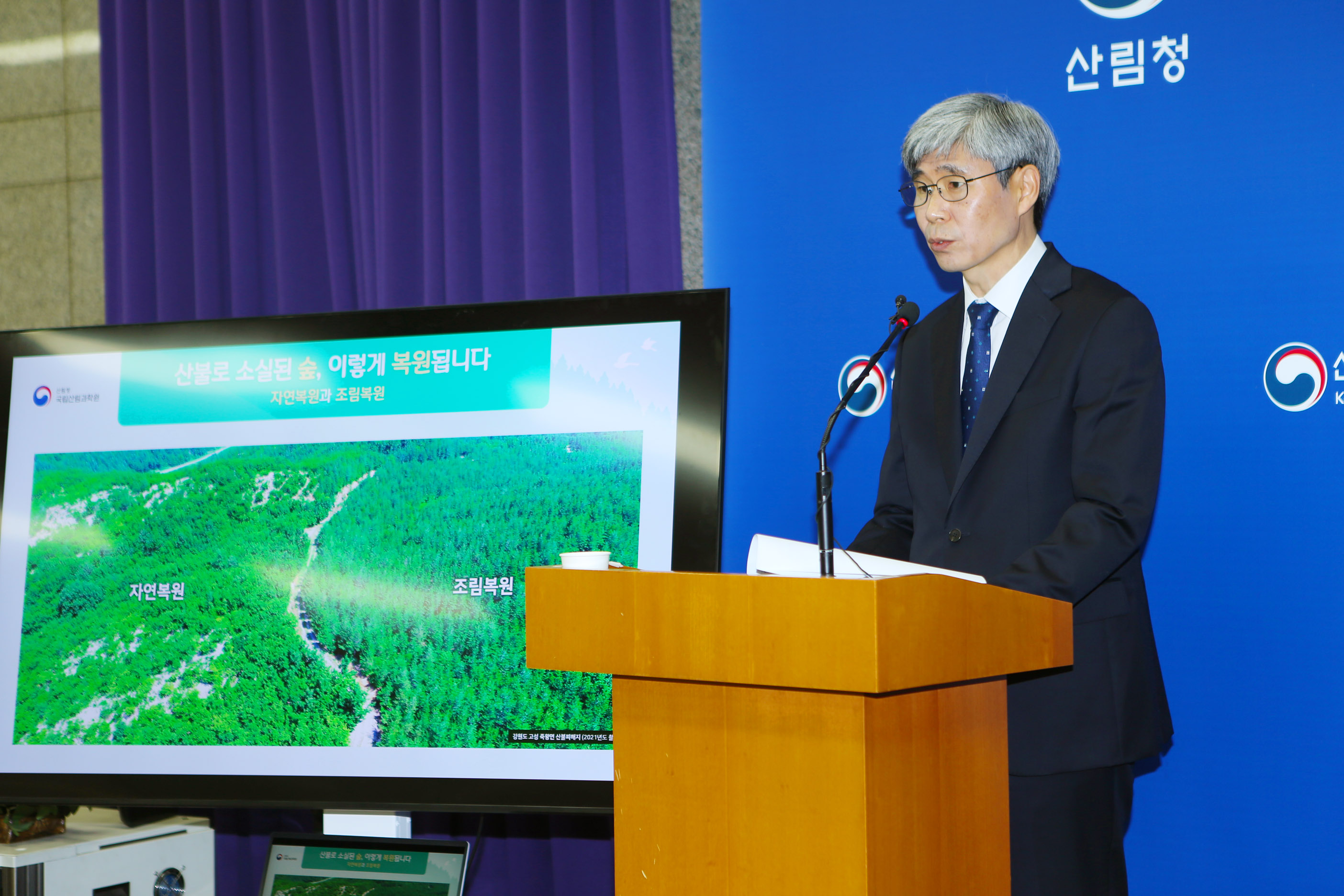 Good morning!

In recent times, people's interest in the restoration of forest fire damaged areas has been getting higher because forest fires have drawn attention as a social issue. Thus, the National Institute of Forest Science has announced future research plans and findings in regard to the past 27 years of the restoration of forest damage to let people understand it.

The NIFoS have established a long-term research site in Samcheok to monitor changes in forest fire damage by developing restoration technology and to reveal a restoration process of an ecosystem in the area.

Now, NIFoS will let you know the major results of monitoring forest fire restoration sites over the past 27 years.

First, species planted in the forest fire damaged area show initial survival rates. This is an important measure to determine the success or failure of the restoration of afforested land.

In accordance with a survey of pine trees, oyster oak, oak trees, maple trees, zelkova, and birch trees in Goseong, Gangneung, Donghae, and Samcheok, Gangwon-do, the survival rate of pine trees after one year of afforestation was 89%, which was much better than the average survival rate of broadleaf trees.

The high survival rate of pine trees means they grow well even in barren soil, such as in a forest fire damaged area. The soil on the east coast is generally infertile, and the topsoil in damaged areas containing nutrients becomes poorer by the fire. Pine trees are the ones that grow in this unproductive condition.

Most forest owners prefer to plant pine trees when it comes to deciding the species of restoration. It is because of economic reasons, and 84.6% of forest owners have expected to plant pine trees due to their productivity during the restoration of forest fire damage in 2000 on the east coast.
Therefore, considering the ecology of pine trees that adapt well to barren soil and the economic value of mountain owners, it is necessary to plant pine trees where they want to grow well.

However, in order to prevent the spread of forest fires, it is necessary to convert pine forests around major facilities such as private houses, power generation facilities, and cultural assets into fire-resistant broadleaf forests. Forest fires preventive measures are also needed in the pine forests by creating a firebreak.

For your information, I will tell you the current status of pine trees and their afforestation performance in Korea. Korea's pine forests account for about 25% of the nation's forest area. Pine forests nationwide account for 94% of natural forests where seeds are spread and 6% of artificial forests planted by humans. Pine trees account for about 4%, or 100,000 ha, of the trees planted over the past 50 years (1973-2022). That is, most of the pine forests in Korea are now naturally created.

Second, it is the result of the evaluation of the resilience of forests and soil 20 years after the forest fire. This result can be used to compare the advantages and disadvantages of afforestation and natural restoration. According to a long-term research survey in Goseong, Gangwon-do, forest development was better in afforestation and soil recovery in natural restoration.

After 20 years, the height of the pine trees that were planted and restored was almost the same as the average height of pine trees in Gangwon-do, and the entire forest maintained a certain height and proper density. However, the natural restoration site where naturally occurring Mongolian oak trees predominated was 23~90% lower than the average height of Mongolian oak trees, and the height and density were not uniform for each location.
Soil organic matter and nutrients gradually increased as two to three years passed after the forest fire broke out in both afforestation and natural restoration areas. However, even after 20 years, the organic matter of forest fire damage was 32-47%, and the nutrient content was 47-63% lower than that of undamaged areas. Comparing the recovery speed of soil organic matter and nutrients in the natural and afforestation sites, the natural restoration sites were 1.5 times and 1.3 times higher, respectively.

The soil loss increased two years after the forest fire occurred in both the afforestation and the natural restoration area, but decreased as the vegetation cover was made, stabilizing three years later.

As such, the restoration of forests and soil depends on the restoration method. Therefore, in order to increase the effectiveness of restoration, it is well shown that the method of restoration of forest fire damaged area should be carefully decided according to the characteristics of the location in consideration of the advantages and disadvantages of afforestation restoration and natural restoration.

Third, it is a major research result on the restoration of forest biodiversity. Forest diversity is one of the important measures for evaluating the health of forests. Therefore, it is also vital to investigate and improve the recovery process of forest diversity.

Forest diversity takes years to decades to recover to pre-forest fire conditions. Fishery recovered within three years, aquatic animals within nine years, and insects (antics) within 14 years, but mammals were 81% to 86% and birds were 62% to 72%, even after 20 years in population.

This shows that it takes a long time to restore biodiversity in forest fire damaged areas, which means that technology to improve forest diversity habitats even in the forest fire damaged area is needed in terms of improving the health of the entire forest ecosystem in Korea.

Korea's large-scale forest fires averaged only 1.8 cases per year over the past 30 years (1992-2021), but 11 cases in 2022 and 8 cases so far this year on May 2. Specific restoration guidelines are needed to implement successful restoration policies for this ever-increasing number of large forest fires.

The National Institute of Forest Science (NIFoS) developed and distributed the " Post-Fire Restoration Manual" based on its experience in restoring large forest fires on Goseong and the east coast and the results of monitoring forest damage.

This manual provided scientific and systematic guidance on how to restore forest fire damaged areas by presenting the principles, standards, procedures, and methods of restoration, which had been ambiguous before.

Restoration of forest fire damaged area needs to comply with the basic principles presented in the manual. In other words, restoration of forest fire damaged areas is carried out in connection with the six functions of forests, including forest for water yield, forest for disaster prevention, forest for natural environment conservation, forest for timber conservation, recreational forests, and living environment conservation forest. In accordance with site quality and vegetation conditions, it must properly promote natural restoration and artificial restoration to reflect forestry owners' opinions.

In addition, the manual stipulated the restoration procedure for forest fire damaged areas in the order of three steps: investigation of the affected area → emergency recovery → long-term restoration. Emergency recovery should be carried out quickly to prevent secondary damage such as landslides and soil loss caused by forest fires, and long-term restoration should be carried out by establishing a restoration plan considering the six functions of forests and the possibility of recovery.

The NIFoS also has developed a "restoration decision flow chart" that stipulates procedures for determining restoration methods such as afforestation and natural restoration when establishing a restoration plan for forest fire damaged areas. The developed restoration decision flow chart is supplemented and applied according to the characteristics of each forest fire damaged area.

According to the decision-making flowchart, experts in the forest, vegetation, animal, and social and economic sectors first participate in investigating the affected areas. Next, the final restoration method is determined by collecting opinions from various stakeholders, including forest owners, residents, and NGOs. The selection of afforestation species for forest fire damaged areas is also selected in consideration of multiple factors such as damage, ecological environment, and seedling supply and demand.

Let us tell you three cases of restoration for forest fire damaged areas.

The first is Goseong Forest Fire in Gangwon-do, where 3,762ha was destroyed in 1996. The Goseong forest fire became an opportunity for social attention to forest fires, and efforts to reveal the recovery process of forest fire damaged areas began from this time. A 48-member ecological investigation team was also formed to investigate the affected areas. There was also the active participation of the community in the process of establishing the direction of restoration.

As a result, the direction of restoration was focused on revitalizing the local economy by restoring pine mushroom production. However, the afforestation plan, which was urgently decided to speed up the collection of pine mushrooms, did not go through sufficient agreement in advance. In addition, there is a limitation in that the restoration method has yet to be decided in consideration of the characteristics of the location.

Second, the East Coast forest fire in 2000 caused the largest damage of 23,794 hectares. The east coast forest fire is an example of establishing a practical plan to restore forest fire damaged areas. As the damage was the largest ever, 176 persons of the public-private joint investigation team surveyed nine areas, including ecology, socio-economic aspects, and evaluation of restoration methods, and created restoration procedures and decision-making flowcharts.

At that time, social policy factors such as public safety, pine mushroom production, and landscape restoration were first considered by holding two local public hearings with various stakeholders, and a plan of 51% for artificial restoration and 49% for natural restoration was established. However, there was a limit in that there was less process of collecting opinions compared to the size of the damage.

In the case of forest fire damage in Uljin in 2022, there was a more efficient decision-making process. The Forest Fire Damage Restoration Promotion Council was formed to provide reasonable restoration directions to specify restoration targets, emergency logging, restoration methods, firebreaks, tree nursery plans, income projects, by-products treatment, and forest functions through eight reports and advisory meetings.

Prior to this, an on-site survey was conducted jointly by the Korea Forest Service, the Regional Disaster and Safety Countermeasures Headquarters, the National Forest Research Institute, and related agencies. Through satellites and drones, the boundaries of forest fire damage and the degree of forest fire damage were scientifically analyzed, and the restoration method was decided by dividing the targets according to the degree of forest fire damage.

In addition, a systematic restoration plan was established according to local conditions through the operation of regional discussions, and 49% of afforestation restoration and 51% of natural restoration were decided.

Finally, I would like to talk about the research plan that the National Institute of Forest Science will carry out based on these achievements and tasks.

First, we will flexibly improve the restoration criteria according to the type of forest fire damaged area and refine the Restoration Decision Flow so that decision-making can be made quickly by automating the decision system.

In addition, we will promote a 100-year long-term monitoring study to investigate the process of restoring the ecosystem of forest fire damaged areas. Based on the research results over the past 27 years, we will develop restoration technologies that enhance the resilience of forest fire damaged area by utilizing advanced technologies such as satellites, drones, and sensor networking and strengthening cooperative research in a wide range of fields.

Finally, we will promote research to develop broad-leaved forest afforestation technology in fire forest damaged areas and proper placement technology for firebreaks.

The NIFoS will continue to make efforts to restore scientific forests that are resistant to forest fires and reflect economic, social, and environmental values through long-term monitoring and technology development.

Thank you.